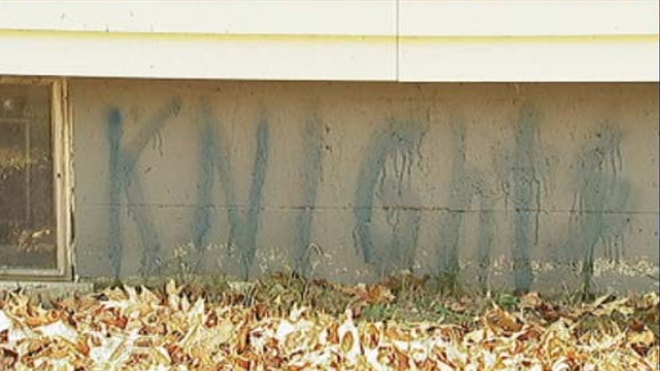 A Massachusetts high school football team has been stripped of for the rest of the season, including the traditional Thanksgiving Day game, after racist graffiti was found spray-painted on a young player's home.
According to Fox News - Lunenburg Public Schools Superintendent Loxi Jo Calmes announced on Monday that the high school has canceled the rest of the season and that an investigation is underway into so-called racist slurs made by Lunenburg players directed at Worcester South High football players earlier in the season.
Someone painted racist graffiti including the N-word last week on the home of a 13-year-old student who plays on Lunenburg High School's freshman and junior varsity football teams. His father is black and his mother is white.
"Knights don't need n*****," the graffiti read, according to MyFoxBoston.com.
The Anti-Defamation League has said it was a hate crime and commended police for making the case a top priority, the station reported.
"This brazen attack on the home of a high school football player warrants everyone's condemnation. This case is indicative of how school bullying can quickly escalate to a hate crime and civil rights violations, making it a community wide concern," ADL regional director Robert Trestan in the statement.
The boy's father accused Lunenburg officials of covering up racist remarks made by Lunenburg football players at games against Worcester and wants Lunenburg coaches to resign. He thinks the same football players were involved in defacing his home last
week and hazing his son, The Boston Globe reported.
Calmes said Monday that the school district will continue to make its resources available to assist the boy's family in response to the"act of hate," according to the newspaper.