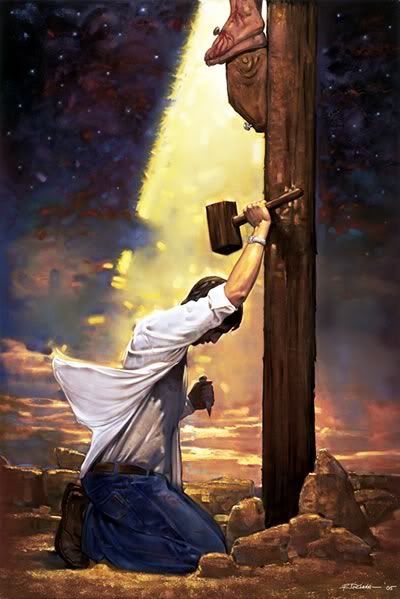 Good Morning! Happy Monday to you all! This is truly the day that the Lord has made, be sure to rejoice today and be glad.

The topic for today is Salvation. I pray as you read that Holy Spirit will shed more light in Jesus name. Amen.
What is Salvation?

Salvation is received through repentance toward God and faith.
Salvation

means we receive eternal life if we enter into a personal relationship with God. It's in the Bible, John 17:3, "And this is eternal life, that they may know You, the only true God, and Jesus Christ whom You have sent."
Salvation cannot be earned, it is a gift from God. It's in the Bible, Ephesians 2:8-9, "For by grace you have been saved through faith, and that not of yourselves; it is the gift of God, not of works, lest anyone should boast. For we are His workmanship, created in Christ Jesus for good works, which God prepared beforehand that we should walk in them."
Deciding to follow Jesus is a choice – requires a personal response but salvation is God Unspeakable gift to every humankind.
God offers us salvation through Jesus. It's in the Bible, Matthew 1:21, NKJV. "And she will bring forth a Son, and you shall call His name JESUS, for He will save His people from their sins."
Remember the parable of the prodigal son, the bible recorded that after he took his inheritance, he spent it all, he became hungry and no one could/would helped him, he then came back to his senses and returns to his father's home. The prodigal son made that choice, no one DECIDED for him, likewise when we want to give our life to Jesus we have to make it a personal decision.
Please do not base your salvation on - I was brought up in a Christian home so therefore I have giving my life to Jesus. Well, my beloved it does not work out that way, you have to make that choice first because is yours to make and no one can make it for you.
Let me give you this scenario suppose you have a life-threatening sickness for example CANCER that requires major surgery. You wouldn't go to your neighbour (to save money) or just look in the Yellow Pages. You would look for a recommended hospital and surgeon and then check your surgeon's credentials to ascertain that he has the skill and experience to perform your surgery.
But finding a trustworthy surgeon alone would not help you, because apart from your permission he can do nothing. You would have to make the decision to personally commend yourself to him to save you through this surgery. You would have to sign the permission form and allow them to wheel you into the operating room and anesthetize you.
When you come out of that surgery and regain your health, you would know two things: the surgeon saved your life (not you), and your decision to entrust yourself to him was very significant!
God says it is exactly this way with salvation (Forgiveness of sin). He says you have guilt before him that is spiritually lethal—so lethal that only the death of his Son can remove it. He provides you with ample evidence to know that Jesus is his Son, and that he is ready and willing to perform this operation.
But you can know and rationally agree to all this—and still die in your sins. Unless you personally entrust yourself to him to remove the cancer of your guilt, he will be of no benefit to you. It's your move!
Would you make that personal decision today to follow Jesus and no turning back? Remember Jesus is knocking and always knocking at the doors of your heart would you open the door for him to enter and abide with you?
How can we receive salvation?
This is very simple, the book of Roman 10: 9- 10 says, "that if you confess with your mouth, "Jesus is Lord," and believe in your heart that God raised him from the dead, you will be saved. For it is with your heart that you believe and are justified, and it is with your mouth that you confess and are saved".
Salvation from our Lord Jesus Christ through his death and resurrection is open to everybody, see what Revelation 22:17 says, The Spirit and the bride say, "Come!" And let him who hears say, "Come!" Whoever is thirsty, let him come; and whoever wishes, let him take the free gift of the water of life.
Wishes in this context means – is not by force but by choice!
Maybe you want to give your life to Jesus today and you don't know how to go about it; help is here:
1) Made up your mind to follow Christ and believe in Him
2) Confess your sin (lying, immorality, taking what does not belong to you, white lies, gossip, anger, hatred and others) because the bible says we have all sin and come short of His glory
3) Invite Jesus into your heart and confess Him as your Lord and Personal Saviour
4) Congratulation you are now a born again Christian.
5) Then, find a bible teaching church and fellowship with other Christians for your growth
6) Attend the discipleship class or Alpha course and do baptism in water
7) Live Godly by His grace because you are no more under law but His Grace.
Note: I am not saying that, you will sin no more but you are cover through the blood of Jesus and please I am not saying that after you have giving your life to Christ that you can continues to sin. The bible says we should be dead to sin and we cannot continue to sin and ask for the Grace of God to abound. However, if you find yourself still struggling with sin after you have giving your life to Jesus Christ just ask for forgiveness of sin and try not to go back. I pray God will be with you.